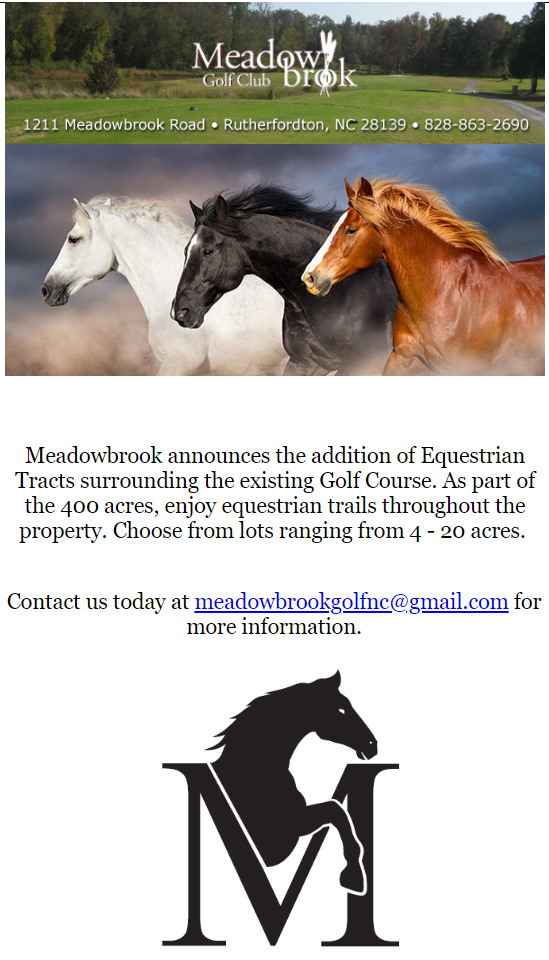 If you are thinking about relocating, a second home, or equestrian estate, it is important that you consider your interests and hobbies. Then choose a location in which to enjoy them, where you can also enjoy nature's abundant creation in a 4-season climate surrounded by friendly people and easily accessible to all modern conveniences…that's Meadowbrook! Located between Charlotte, Spartanburg, and Asheville and minutes away from Tryon International Equestrian Center, Meadowbrook is ideally located.
Depending on age and occupation, many people enjoy many different hobbies, but one sport that has universal appeal is golf, and there is no more attractive place to play golf than in a North Carolina foothills setting.
Residential property is an important addition to our family's long history in the area. For over 45 years, our golf course has attracted players from all over the country. Now we are adding the one missing ingredient…welcoming new friends, who like us, choose this unique corner of Western North Carolina in which to live.
What makes golf courses in Western North Carolina different is a combination of climate, location and setting. As the foothills of the Piedmont meet the higher mountains of this region, the area is known for its temperate mountain climate. The beauty of Spring turns into warm Summer days that extend into the Autumn months, where later mild winters follow. Each adds its own special beauty to Meadowbrook where our family has lived, worked and played for over 100 years. It's truly a fine example of North Carolina living at its best.
For more information call us today locally at (828) 863-2690 or toll free at 866-863-2690. email  meadowbrookgolfnc@gmail.com